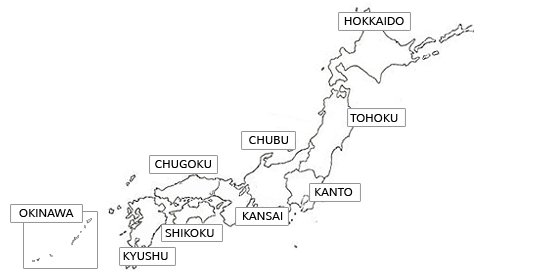 Japan has eight beautiful regions rich in culture and diversity. Select a region to explore and view available ryokans.
Welcome to Shimizu. This new, 2 story Modern Ryokan is very conveniently located near JR Kyoto train station. There are 12 Japanese-style rooms at Shimizu, and each guest room has its own private bath and toilet. There are also shared baths for both women and men (same gender only). The Eyokan staff will always do their best to make you satisfied. Shimizu has a dining area, and guests can access the Internet for 100 yen for 20 minutes (1 hour limit per guest). There is also a bicycle rental service at Shimizu. Warning: The last check in time is at 17:00 (5:00 pm). If you need to check in after this time you will need to call the ryokan ahead and let them know what time you plan to check in but if you do not let them know your arrival time and you arrive after 17:00 (5:00 pm) they may cancel your reservation and you will be charged a cancellation fee. Check-in time is after 16:00 and check-out time is before 10:00 am. Parking is available.
Facilities
GUEST ROOMS
Japanese Style Room with Private Bath
Japanese Style Room with Private Toilet Avialable
Large Japanese Style Room (4 or more guests)
Non-Smoking Rooms
Hanare, (Private Guest Residence)
Towels
HOT SPRINGS BATH
Shared Outdoor Hot Spring Bath (Same Gender Only)
Shared Indoor Hot Spring Bath (Same Gender Only)
Private Hot Spring Bath in Guest Room
Private Outdoor Hot Spring Bath (Attached to Guest Room)
"Family Bath" (Privately Reserved Hot Spring Bath)
Mixed Outdoor Hot Spring Bath
REGULAR BATHING FACILITIES
Shared Outdoor Bath (Same Gender Only)
Shared Indoor Bath (Same Gender Only)
Private Outdoor Bath (Attached to Guest Room)
"Family Bath" (Privately Reserved Bath)
Mixed Outdoor Bath (Both Genders)
MEALS
Dinner and Breakfast Plan Available
Breakfast Plan Only Available
No Meal Plan Available
SPECIAL MEAL REQUEST
Special Meal Request (e.g. No Pork)
Vegetarian Meals (with fish)
Vegetarian Meals (no fish but with fish broth)
Western-style Breakfast
DINING ARRANGEMENTS
Dinner Served in Guest Room
Breakfast Served in Guest Room
OTHER
English Ability of the Ryokan Staff/Owners:

Basic English Spoken

Internet Connection:

Wifi Available

Parking:

Paid Parking

Curfew Time:

24:00 Midnight

Pickup Service:
Single Guests:
Children under 12 Years allowed:
Pay with a Credit Card:
Shops and Restaurants Near Ryokan:
Guest Photos:
You Must Be Logged In To Submit A Guest Review
Ryokan Reviews:
Fall Visit
Daniel
Month Of Visit: September
Country Of Reviewer:
My brother and I stayed at Shimizu for 2 nights in the fall. The staff was excellent and extremely helpful. They even brought iced tea as we returned to our room! We also never had a more peaceful night\'s rest in a city before. We heard NOTHING from our room and it was very relaxing. Calligraphy was the evening activity we chose to do and even took the pictures home. Definitely stay here.