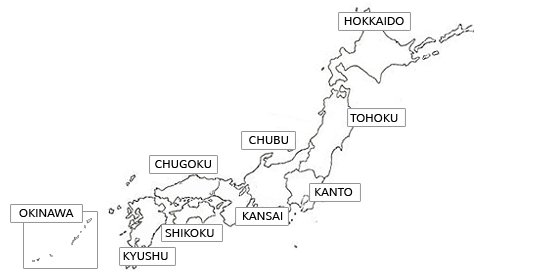 Japan has eight beautiful regions rich in culture and diversity. Select a region to explore and view available ryokans.
Welcome to Rengejo-in. This traditional Buddhist Temple, or Shukubo in Japanese, is located near the Mount Koya cable car station. Rengejo-in has interesting temple architecture, a traditional Japanese garden, and 46 Japanese-style guest rooms. Rengejo-in provides shared baths for both women and men, and "shojin ryori" or Buddhist Monk vegetarian meals are served to the guests. After breakfast, there is also a Japanese/English lecture about the history of Mt Koya and Buddhism. Check-in time is after 3:00pm and check-out time is before 9:00am. Parking is available and some English is spoken.
Facilities
GUEST ROOMS
Japanese Style Room with Private Bath
Japanese Style Room with Private Toilet Avialable
Large Japanese Style Room (4 or more guests)
Non-Smoking Rooms
Hanare, (Private Guest Residence)
Towels
HOT SPRINGS BATH
Shared Outdoor Hot Spring Bath (Same Gender Only)
Shared Indoor Hot Spring Bath (Same Gender Only)
Private Hot Spring Bath in Guest Room
Private Outdoor Hot Spring Bath (Attached to Guest Room)
"Family Bath" (Privately Reserved Hot Spring Bath)
Mixed Outdoor Hot Spring Bath
REGULAR BATHING FACILITIES
Shared Outdoor Bath (Same Gender Only)
Shared Indoor Bath (Same Gender Only)
Private Outdoor Bath (Attached to Guest Room)
"Family Bath" (Privately Reserved Bath)
Mixed Outdoor Bath (Both Genders)
MEALS
Dinner and Breakfast Plan Available
Breakfast Plan Only Available
No Meal Plan Available
SPECIAL MEAL REQUEST
Special Meal Request (e.g. No Pork)
Vegetarian Meals (with fish)
Vegetarian Meals (no fish but with fish broth)
Western-style Breakfast
DINING ARRANGEMENTS
Dinner Served in Guest Room
Breakfast Served in Guest Room
OTHER
English Ability of the Ryokan Staff/Owners:

Good English Spoken

Internet Connection:

No Internet Connection

Parking:

Free Parking

Curfew Time:

No Curfew

Pickup Service:
Single Guests:
Children under 12 Years allowed:
Pay with a Credit Card:
Shops and Restaurants Near Ryokan:
Guest Photos:
You Must Be Logged In To Submit A Guest Review
Ryokan Reviews:
Nice and comfortable Ryokan
Month Of Visit: September
Country Of Reviewer: Lithuania
First of all, I\'ve been only in this Ryokan, so I can\'t compare, but... Although modest and simple from outside, inside garden had water pool shaped like a creek (I\'m not sure now, maybe it was a real creek) with big colorful fishes and it was breathtaking. I got nice, surprisingly big and comfortable room with windows to that beautiful garden. Staff was pleasant and helpful, regrettably did\'t speak English very well, but enough to get by. During morning ceremony in the temple everything was in Japanese and best English speaking monk was away, so I got quite little explanation. Despite that whole experience was memorable, small, but intimate and picturesque temple created really great atmosphere and I felt elated. The singing (chant) was resonating, I would have definitely bought a CD, didn\'t think to ask if they have such, probably not. Hot springs bath was nice, I\'m not a specialist (rather a shower guy), so can\'t really expand on that. I\'m not vegetarian, so didn\'t like meals like as much as in customary hotels, but it was well served, good and filling. Next morning (I was staying only one night) I could leave my luggage in the Ryokan after the checkout time and go for a walk around most of Mt.Koya. It took only few hours on foot to visit everything that I planned to and come back. Rengejo-in is only few stops from cable car station, so very easy to find and to leave. All in all I had a great experience, can heartily recommend it for everyone!
Great traditional Japanese experience
Christo
Month Of Visit: December
Country Of Reviewer: South Africa
My first stay at a traditional Japanese inn, since it is a temple the stay was especially interesting. I appreciated the chance to experience the way of Buddhism and learned a lot. The monks were friendly and educational and most helpful when exploring Mt. Koya. We had heavy snow fall but heaters were provided and the snow on the mountain and the temple gardens were magical. Just bring very warm close when visiting during winter. I recommend a stay at Rengejo-in