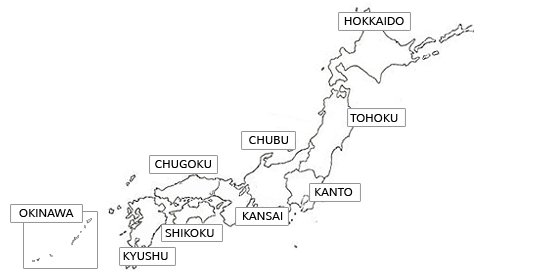 Japan has eight beautiful regions rich in culture and diversity. Select a region to explore and view available ryokans.
Welcome to Kidoya. This Gassho-Zukuri has 5 traditional Japanese-style guest rooms. There is also a shared bath and toilet facilities for the guests. Homemade Japanese-style cuisine is served to the guests at Kidoya. Check-in time is after 15:00 and check-out time is before 9:00 am. Some English is spoken. Snow Warning: There is a lot of snow in Shirakawa-go in January and February so please bring a pair of boots. Shirakawa-go can get up to 2 meters (over 6 feet) of snow in February.
Facilities
(click to expand)
GUEST ROOMS
Japanese Style Room with Private Bath
Japanese Style Room with Private Toilet Avialable
Large Japanese Style Room (4 or more guests)
Non-Smoking Rooms
Hanare, (Private Guest Residence)
Towels
Single Guests:
Children under 12 Years allowed:
HOT SPRINGS and BATHING FACILITIES
Shared Outdoor Hot Spring Bath (Same Gender Only)
Shared Indoor Hot Spring Bath (Same Gender Only)
Private Hot Spring Bath in Guest Room
Private Outdoor Hot Spring Bath (Attached to Guest Room)
"Family Bath" (Privately Reserved Hot Spring Bath)
Mixed Outdoor Hot Spring Bath
Shared Outdoor Bath (Same Gender Only)
Shared Indoor Bath (Same Gender Only)
Private Outdoor Bath (Attached to Guest Room)
"Family Bath" (Privately Reserved Bath)
Mixed Outdoor Bath (Both Genders)
MEALS
Dinner and Breakfast Plan Available
Breakfast Plan Only Available
No Meal Plan Available
Special Meal Request (e.g. No Pork)
Vegetarian Meals (with fish)
Vegetarian Meals (no fish but with fish broth)
Western-style Breakfast
Dinner Served in Guest Room
Breakfast Served in Guest Room
OTHER
English Ability of the Ryokan Staff/Owners:

No English Spoken

Internet Connection:

Wifi Available

Parking:

Free Parking

Curfew Time:

22:00

Pickup Service:
Pay with a Credit Card:
Shops and Restaurants Near Ryokan:
Guest Photos:
You Must Be Logged In To Submit A Guest Review
Ryokan Reviews:
Lovely weekend, memorable experience
Sandy
Month Of Visit: July
Country Of Reviewer:
My daughter and I spent two peaceful nights at Kidoya. It was a nice respite between our busy days in Tokyo and Kyoto. The ryokan was very comfortable and cozy. We arrived late on a wet summer evening due to train delays, and one of the women there picked us up from a different bus stop in her car. They even kept dinner waiting for us. Even though it\'s a shared space, there wasn\'t an issue with the facilities. You just know you have to take a turn and share. (One of the earlier comments mentioned mold and run down rooms, but those Gassho houses are old, so taking that into consideration, they were in good shape and very clean.) The ryokan was full our first night and empty the second, but both nights were quiet and serene. The women who ran the ryokan were so kind and thoughtful. Their English was good enough to communicate important information, since we spoke very little Japanese. And the food was filling and delicious. We will always remember our time there.
True experience
Andreas
Month Of Visit: April
Country Of Reviewer:
2014, weather still cool but people were warm. Great experience to learn how traditional living was. toilet use was interesting for 13 people but was OK for us. We pick public bath & skipped the single tub/shower. Dinner and breakfast were great. We loved the experience. The portable heater was annoying when it sounded warning music every 3 hours. We should have it shut off but room gets cold without it. Love the room for 2 of us. It was cool to sleep on the tatami. We had to add a little more padding but at least we have more sleeping area than a Japanese hotel beds.
Another great moment in Japan
Peera
Month Of Visit: April
Country Of Reviewer: Thailand
The owner was very friendly and smiley eventhough communication is a major problem, Food especially hida beef and the soy paste was tasty. The room is big enough for couple, well equipped with heater and electric kettle, Blanket and mattress is clean, no idea about bathroom as we didnt use it because of freezing weather. hahahaha
Unforgetable Traditional Japanese Experience
Anita
Month Of Visit: April
Country Of Reviewer: Indonesia
The location is very easy to find. The bathroom is very clean, the ofuro (bathtub) can fit 2persons. The room is big for standard in Japan (the size is 8tatami). And the hida beef is very delicious! They give us extra blankets and heater because the weather was really cold, such a nice and polite hospitality.
Rundown
mariana
Month Of Visit: October
Country Of Reviewer: Brazil
The old gasho house is amazing wich leaves you immersed in the atmosphere of the old village. The food is very good. But the rooms are really runed down and unkept. There are mold on the walls, torn paper on the paper doors, the ofuro didnt look very clean.