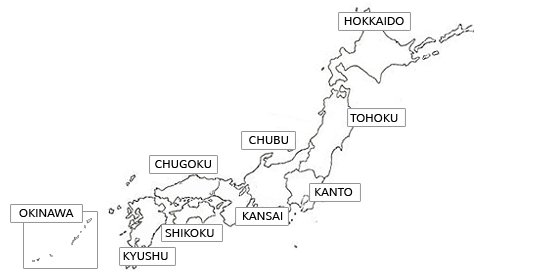 Japan has eight beautiful regions rich in culture and diversity. Select a region to explore and view available ryokans.
Welcome to Hakone-Ginyu. This Modern Ryokan is built on the side of a mountain and all guest rooms have views of Hakone Mountain. There are 17 Japanese-style and 3 Western-style guest rooms and all guest rooms have a private outdoor hot spring bath on the terrace. There are 3 indoor and 2 outdoor hot spring baths for both women and men (same gender only). Traditional Japanese-style seafood cuisine is served to the guests at Hakone-Ginyu.
Facilities
(click to expand)
GUEST ROOMS
Japanese Style Room with Private Bath
Japanese Style Room with Private Toilet Avialable
Large Japanese Style Room (4 or more guests)
Non-Smoking Rooms
Hanare, (Private Guest Residence)
Towels
Single Guests:
Children under 12 Years allowed:
HOT SPRINGS and BATHING FACILITIES
Shared Outdoor Hot Spring Bath (Same Gender Only)
Shared Indoor Hot Spring Bath (Same Gender Only)
Private Hot Spring Bath in Guest Room

N/A

Private Outdoor Hot Spring Bath (Attached to Guest Room)
"Family Bath" (Privately Reserved Hot Spring Bath)
Mixed Outdoor Hot Spring Bath
Shared Outdoor Bath (Same Gender Only)
Shared Indoor Bath (Same Gender Only)
Private Outdoor Bath (Attached to Guest Room)
"Family Bath" (Privately Reserved Bath)
Mixed Outdoor Bath (Both Genders)
MEALS
Dinner and Breakfast Plan Available
Breakfast Plan Only Available
No Meal Plan Available
Special Meal Request (e.g. No Pork)
Vegetarian Meals (with fish)
Vegetarian Meals (no fish but with fish broth)
Western-style Breakfast
Dinner Served in Guest Room
Breakfast Served in Guest Room
OTHER
English Ability of the Ryokan Staff/Owners:

Basic English Spoken

Internet Connection:

No Internet Connection

Parking:

Free Parking

Curfew Time:
Pickup Service:
Pay with a Credit Card:
Shops and Restaurants Near Ryokan:
Guest Photos:
You Must Be Logged In To Submit A Guest Review
Ryokan Reviews:
Una experiencia que vale toda la pena
Andres
Month Of Visit: August
Country Of Reviewer: MEXICO
Es toda una experiencia que vale la pena vivir en tu visita a Japon. Un lugar para descansar, disfrutar y vivir toda la experiencia de Ryokan. Desde la bienvenida hasta el ultimo detalle de nuestra visita. Gracias por todo y espero volverlos a ver.
Great time at Hakone-Ginyu
Brennan
Month Of Visit: January
Country Of Reviewer: USA
I stayed here with a small group for one night in January. The ryokan is beautiful and the staff is fantastic. The included meal was one of the best of my trip. Transportation to and from the ryokan is straightforward. The public baths are beautiful and the private baths are convenient and comfortable. I speak Japanese at the level of about a 5-year-old. Fortunately for us, most staff we interacted with had very good English. In the one case I recall where most of the conversation was in Japanese (ordering some room service), the exchange was simple enough that I could manage. The majority of the guests were Japanese couples. I didn\'t notice any other international tourists, but there were plenty of Australians in the Hakone area based on our train experience. For that reason I\'d conclude that this is a very authentic ryokan. All told, it was a great experience. Definitely the most expensive night of our trip, but it was a great success. Thanks to JGH.com for helping us out.